The back wall of the stage is painted to represent ashlar stone work. Following Ronayne's research, above the rough block masonry of the sub-stage level are first painted two courses of vermiculated ('worm eaten') ashlar to represent a rougher nearness to the earth.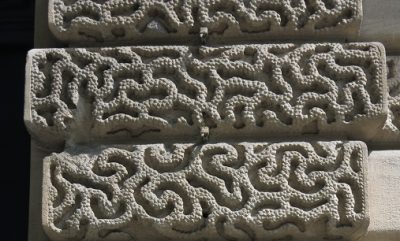 Above this, the wall is painted using dark and light shades to represent smooth ashlar block work as in Phase I. Around the arched stage doors and pillars is also painted vermiculated ashlar stone work (see fig. 97). Separating each level of the frons scenae is a design for Roman fretwork by Hans Vredeman de Vries, painted to look like carved stone (see fig. 63 [4.11.1]). The façade is painted to resemble different stone, from granite, to ashlar stone, to coloured marble (red, green and yellow/white).
---
[332 ]'Detail of the Building 286 boulevard Saint-Germain, Paris 7th arrond, France,' (Tangopaso, 2015): https://commons.wikimedia.org/wiki/File:Boulevard_Saint-Germain,_286_(vermiculure).jpg. [accessed 22 July 2017].